Get Various Types Of Forks for Sale Online
Searching for forks online? Get ready to set up your dinner table and invite more customers to your restaurant.
Bring a touch of sophistication to your commercial space by decorating the table with stylish looking and elegant cutlery sets. At Hotel Agencies, we offer forks for sale that are designed for everyday meals. Made from stainless steel, the forks are highly durable and features beautiful designs and patterns. The sleek handles can easily fit in your hand.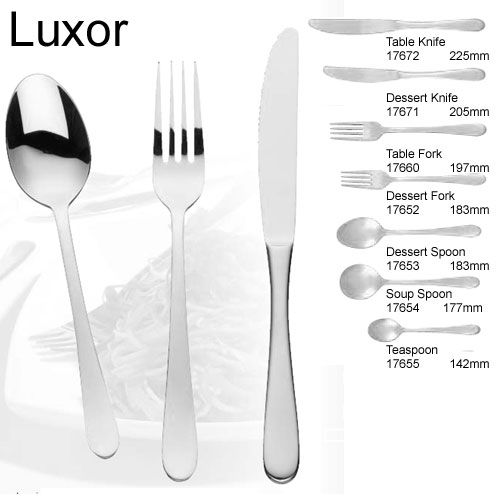 You can create a formal or casual dining setting with our silverware. If you want to upgrade your current dining space, browse for our forks online today.
We offer the following types of forks :
Table Fork: This fork is used to eat a variety of main course dishes. This is one of the most common types of forks available in most diner settings.
Oyster Fork: The oyster fork is comparatively narrower than other types of forks. As the name suggests, it is mainly used to eat seafood including oysters, lobsters and shrimp.
Cake Fork: These forks feature a slightly thicker left tine, as they are designed to cut through soft pieces of desserts and pies.
Fruit Fork: The fruit forks have squat shapes; they are used to eating fruit salad and fruit dishes
Dessert Forks and Spoons
In restaurants and hotels, the desserts are usually served along with dessert forks and spoons placed on either side of the plate. We have a collection of elegant silverware which will completely blend with your existing kitchenware.
We ensure you that our dessert fork and spoon set will match all your kitchen and dining needs in terms of aesthetics and functionality. It will help you follow standard dining etiquette and impress your customers at once. Whether you are looking for specific forks online or well known brands, Hotel Agencies is your one stop shop for all your cutlery needs.
Our well known brands include:
Luxor
Basics
Rome
Baguette
Bogart
Sienna
Opera
Clarendon
Paris
Melrose
Sorrento
Princess
Gable
Amalfi
Studio William
Austin
All of our brands vary in quality; this is determined by their nickel content. Brands can range from 18/10, 18/8 and 18/0 in quality, this being 18% chromium and 10% nickel.
The higher the nickel content, the more resistant to corrosion and fading the cutlery will be after continuous washing in a dishwasher. If you are looking for dessert forks and spoons that are a bit more unique to the standard style, try our Austin matt finished cutlery which comes in Gold, Black and Copper colours.
Shop online at Hotel Agencies today.
Shop Cutlery Range